Sea Glass Birthstone Jewelry
Sea Glass Jewelry for every Month of the Year.
A great Birthday gift idea for any beach lover featuring a sea glass color that corresponds with that months birthstone color. We also offer a range of Sea Glass Jewelry with crystal gems and birthstones for all twelve months.

Sea Glass Jewelry For August - Peridot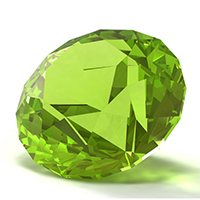 A great Birthday gift idea for any beach lover featuring sea glass jewelry for August .We have often called Peridot Green sea glass "Poseidon's Peridot"©.
The August birthstone, peridot, symbolizes strength. It is sometimes called the evening emerald for its light green color. It was once believed that the green peridot crystals found in volcanic ashes were the tears of the volcano goddess, Pele.
Peridot comes in many shades but is generalized as a "Yellowy Green"

Lime or Chartreuse Green sea glass is the equivalent to this gem and though rare, we are able to offer some of the finest peridot sea glass in the world today. This color is highly prized and valuable and CERTAINLY not your everyday green. It really does GLOW and some of it really does under UV light.

We occasionally offer this color of sea glass earrings (though matching this color is rare) as well as sea glass lockets with lime green sea glass and gems. Sea Glass Pendants in this color are sometimes also available though they tend to sell FAST!
AND DON'T FORGET................Take advantage of our Free Premium Gift Wrapping available at checkout!